On your marks, eggs set, GO!
This month for the Fun Month, we're calling out your creativity!
The idea is simple: grab an egg, customise / decorate it, and take a picture of it!
One thing though, you'll need to have a note in the picture mentioning "Fun Month".

You can paint, colour, stick accessories and/or create a special backdrop for your decorated egg.
The 3 best eggs will receive reward cheques!

Reminder: The content has to be your own. Images taken from Google, or other websites will not be accepted.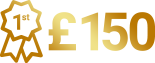 Winners will be announced early may – good luck!
---